Play Now (Legacy Windows)
Play Now (Legacy Windows)
Important Notes:
This guide is for users of Windows 8.1 and older. If you use a newer version of Windows, please visit
this
page for the Play Now guide for your OS. We do not provide launcher support for Linux and macOS users.
This Legacy Launcher is no longer supported with version updates, it is provided in an "as is" state to allow users of old Windows operating systems to connect to our game servers for as long as it remains functional. You will find most servers will begin to update their launchers and remove support for Windows 8.1 and below. We understand that some of our players still use legacy operating systems and as such, we want to provide them with a means to be able to play on Awakening for as long as it remains practical to do so.
Users will be able to connect to the Live and Test servers with this version of the launcher. Users may have issues on the Test server, such as crashing or not being able to see/use items currently under development. The Live server will have no such issues. This is due to the server-dependent patch system we have transitioned to, which is not supported by the Legacy Launcher.
Step 1 - Make a SWG Awakening Account
Register for a game account
here
. You will need to activate your account by visiting your email and clicking on the activation link before you will be able to log in. Your account will work on both the website and the game server.
Step 2 - Acquiring Sony's Star Wars Galaxies Installation Media
To connect to our server, you will need a copy of the original Star Wars Galaxies client. An Empire Divided, The Total Experience, or The Complete Online Adventures is required. Clients obtained through illegal means are strictly forbidden. Copies of the game are still available at most major online retailers.
Step 3 - Installing Star Wars Galaxies
Install the SWG game client onto your computer following the installation wizard instructions (default location is usually Program Files for x86 systems or in Program Files (x86) for x64 systems). You do not need to start the game after install, proceed to the next step.
Step 4 - Ensure Your System is Up to Date (Especially XP and Vista)
Install ALL Windows updates/patches (via Windows Update or manual service packs).
Ensure you have .NET version 4 (how to check)
Ensure you have the latest version of Direct X (how to check)
Step 5 - Download and Install the SWG Awakening Client
You can download the SWG Awakening Client installer
here.
After downloading, install Awakening_Setup.exe (note: as with most program installs, you are required to be an Administrator on your computer or run as Administrator) onto your computer by following the installation wizard instructions. The installation wizard will check for missing Star Wars Galaxies files and download them if they are missing (this can take a while, be patient). After the wizard completes, you will be given the option launch the SWG Awakening Launcher. You will be able to change game settings such as display, audio, etc.. you can run the config later from the Launcher.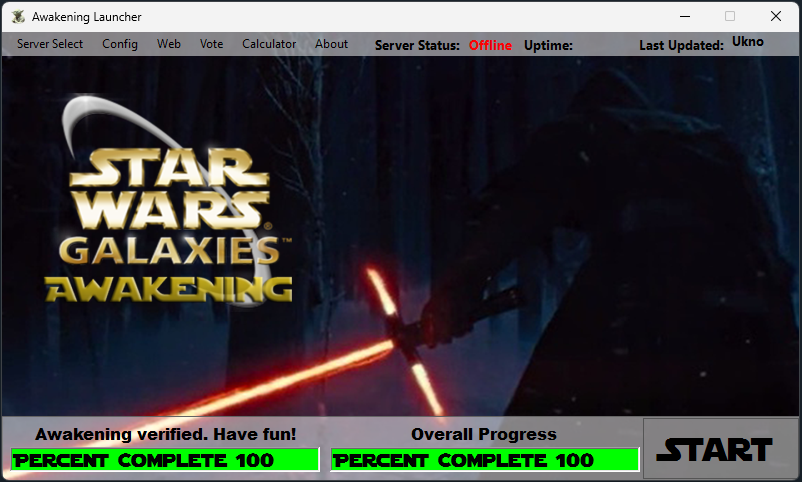 Step 6 - Running the SWG Awakening Launcher
Run the SWG Awakening Launcher from the desktop or the start menu.
Enjoy!